strong families = thriving community
Mayville Open Door Inc, aka The Open Door Coffeehouse, is a non-profit coffeehouse in Mayville, Wisconsin, providing mentoring programs to the community. With a vision to foster thriving communities and a mission to provide prevention, intervention, and restoration for individuals and families by connecting people, we are making an amazing impact in rural Wisconsin and the greater Milwaukee area.
Register for the Elevate Parenting Conference Today
Founding board member, Allan, is a University of Minnesota, Twin Cities, graduate with a Master's Degree in Landscape Architecture.  He also has been active
Not only the best place to meet with friends and family, but a "home away from home" for so many people- including me!! I love all the programs they offer, the kind of people they employee, and the top-quality coffee keeps me coming back!
A GREAT gathering place where you will find warmth for your tummy, spirit, and soul!! ***WARNING*** you won't leave the same way you came! #lovethisplace
Upcoming Events
Jun
6
Sat
6:00 pm
Young Adult Game Night

@ The Open Door Coffeehouse
Young Adult Game Night
@ The Open Door Coffeehouse
Jun 6 @ 6:00 pm – 9:00 pm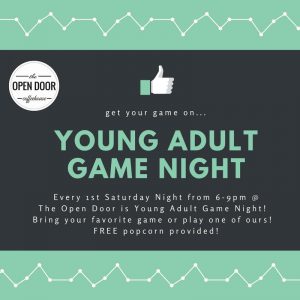 Introducing Young Adult Game Night! Looking for something to do on Saturday nights? Join us EVERY 1st Saturday night of each month for Young Adult
our fundraising dollars for our building project